talent trends report: COVID-19 & the future of work
how human capital leaders are leading corporate response.
Even before the global COVID-19 pandemic emerged, just 31% of human capital leaders said their organizations were completely prepared to adapt if the economy were to worsen in 2020. Was your company ready to adapt during the crisis?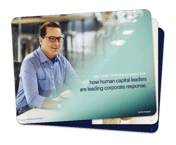 Get your copy of the latest Talent Trends research for insights on how talent leaders are driving corporate response and new ways of working for their organizations.


Read what workforce challenges you can expect to face as your business and markets embark on the road to economic recovery; how you can continue to create a responsive and agile workforce; and how data, technology and other strategies will continue to shape talent strategies post COVID-19. You'll learn:
the 6 top HR trends that matter most to your business and economic recovery right now

how to build an agile workforce to drive a competitive advantage for your organization

how to harness the power of technology, reskilling and employer branding in the future of work
> Get the insights you need to lead your business forward. Request your report now.
about our research.
Randstad Sourceright's Talent Trends research is a survey of more than 800 C-suite and human capital leaders across 17 markets. Conducted in late 2019 by a third party on behalf of Randstad Sourceright, the research is designed to help our clients and the broader business community understand the top HR trends for 2020.