Everest Group Research Report: integrated talent solutions from AMN Healthcare + Randstad
a game changer for talent acquisition in the U.S. healthcare industry.
With the healthcare industry experiencing rapid transformation, hiring demands are also rising at a rapid pace for all types of roles, including clinical and non-clinical, across both the permanent and contingent workforces. How do you address your talent acquisition requirements and the different demands of talent, while also navigating through these challenging times?
The Everest Group, a leading management consulting firm, has released a report on the U.S. healthcare industry and the impact of a new strategic partnership between AMN Healthcare and Randstad.
Get your copy to learn more about:
current healthcare talent acquisition trends, such as the increasing supply-demand gap, the impacts of COVID-19, the increased demand for technology-led roles and more

advantages of an end-to-end talent acquisition strategy including permanent and contingent, as well as clinical and non-clinical

impacts of the AMN Healthcare and Randstad partnership on the broader healthcare talent acquisition market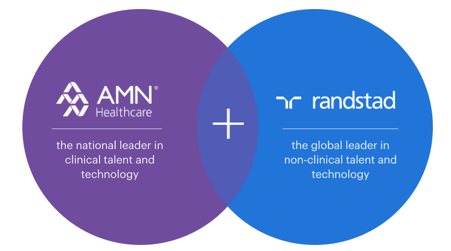 > get your report now
Download the Everest Group Research report today.