2019 Talent Trends sector report
disrupt or be disrupted:
life sciences talent acquisition leaders ready to stand up will drive business success.
Massive growth. An aging workforce. Demand for digital.
More than any other sector, life sciences and healthcare employers (85%) say talent scarcity is one of their business leaders' greatest concerns.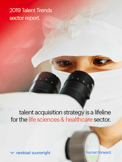 To lead in the sector, you need to meet the skills demands of today's consumer-driven healthcare, while also looking to the future to find the talent who will develop emerging therapies for a booming global population.
>> Get your copy of the 2019 Talent Trends life sciences & healthcare report for actionable advice on how to address talent scarcity and drive business success.